Mix & Match Color For A Coastal Effect
Earth Tone & Blue & White
Immersing yourself in the nature – brown earth, blue sea and white sky. A very soothing and calming color schemes for the bedrooms, allowing you to fully rest and let go of your anxieties, worries and busyness of the day.
Wall Color: A featured wall at the back of you bed, painted with a darker shade of sky blue. Placing this color at the back of the bed makes it the focal point of the room yet not overpowering as the blue blends in well with the earthly tone of the bed and its accessories.
Furniture & Accessories Color: Choose earth tone to compliment well with the wall and ceiling color. We are choosing a darker walnut side tables and wooden ceiling light cover to match with the wood flooring and wardrobe. For Accessories such as bed linen, painting, area rug, pillow covers, we are choosing a lighter earth tone such as beige and white to give it a gentle touch.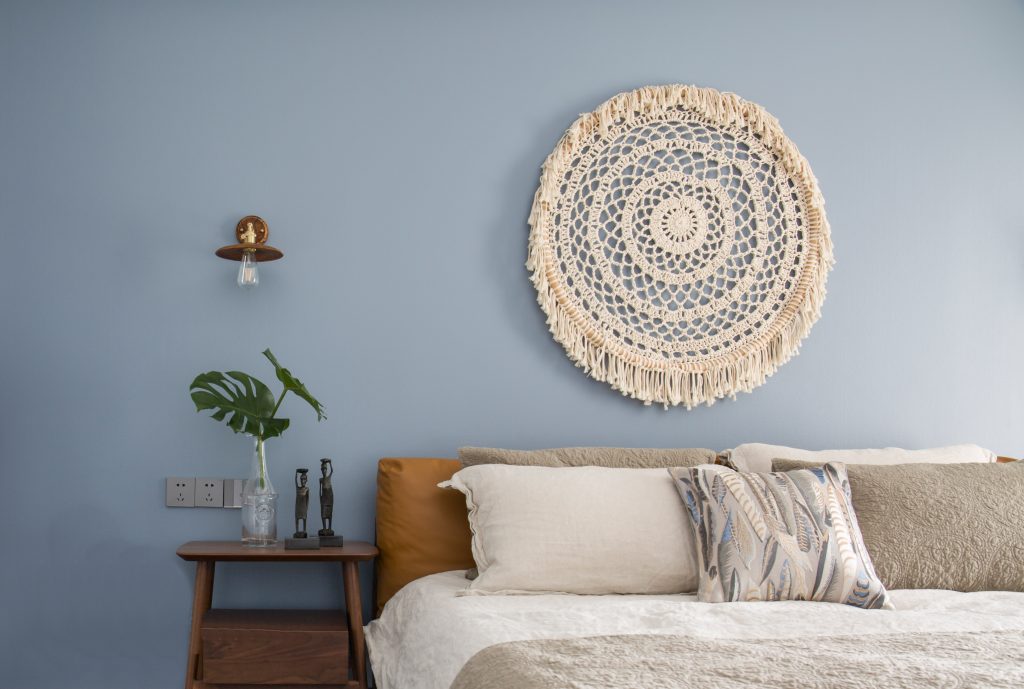 Accessories Material & Texture: Suggest to use natural and textured materials such as cotton, hemp rope and fabric to align with the nature theme of the room.
This is truly a cozy bedroom design & decor that draws you closer to nature!